If you are looking for a Transformational trip or unforgettable experience in 2017, It doesn't get more much more exotic, unique or mind-blowing than the Galapagos Islands! You don't have to be Charles Darwin to get a sense of the sheer magic and beauty that this place holds. Even if you have seen documentaries about the islands, nothing will ever prepare you for the untouched landscapes and unique wildlife that you will find nowhere else on the planet.
Most people have no idea where to find the Galapagos Islands on a map, let alone how to get there or plan a trip there. The Galapagos are the sort of place most people only get the chance to visit once. Whether you're cruising the easterly or westerly islands or planning a lodge-based island-hopping itinerary, you're bound to create memories together to last a lifetime. So after coming home and gushing about my trip, I found myself being asked the same questions over and over again about the islands and how to get there. So here are my answers to 8 frequently asked questions about how to plan the trip of a lifetime in the Galapagos.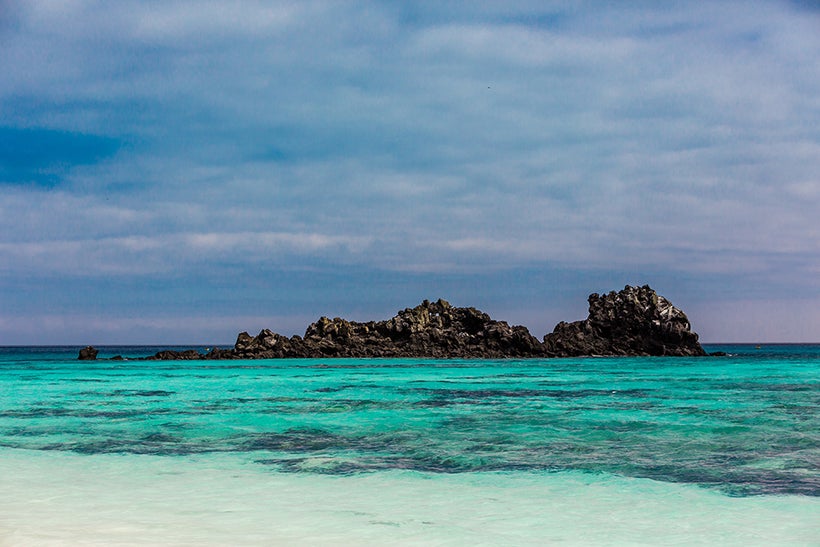 1. Where in the world ARE the Galapagos?
This archipelago of about 19 islands and many smaller islets sprinkled 620 miles off Ecuador's coast in the Pacific Ocean is a double World Heritage site (both land and sea are protected) and served as the inspiration for Charles Darwin's Theory of Evolution. Each island boasts its own unique landscape and wildlife, ranging from barren black, volcanic rocks to long stretches of white sand beaches melting into turquoise-blue waters. In order to get there you have to fly to either Quito or Guayaquil, Equador and then take a small jumper flight to one of two airports on the islands.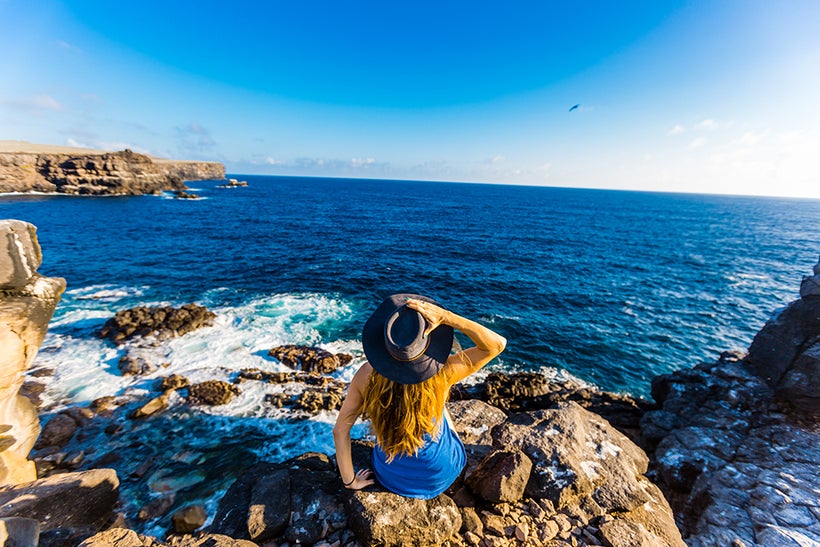 2. What is the best way to see the islands?
The reason that the Galapagos have largely remained unchanged is due to the great efforts of the Ecuadorian Government to highly protect this archipelago. Unless you are a scientist or marine biologist, tourism is very limited and you will only realistically be able to stay on or see about 2% of the islands. Visits to most of the islands aren't allowed without a guide licensed with the Galapagos National Park. Because the Galapagos islands are considered to be a national park, everyone who visits has to pay $100 fee to enter, but part of that fee goes to the first class naturalist guide that accompanies you on your private cruise and on all of your hikes and excursions off the boat. So you are basically paying for your Galapagos education and will leave knowing so much more about the history of the islands and wildlife than you can ever imagine.
You can book day trips to some of the islands from Puerto Ayora in Santa Cruz, but taking a cruise on a small yacht is the best way to see the more remote islands and wildlife in the Galapagos. Booking with a sustainable travel company that books small cruises as well as land-based hiking trips, eco-hotels, and dive excursion add-ons is definitely the way to go.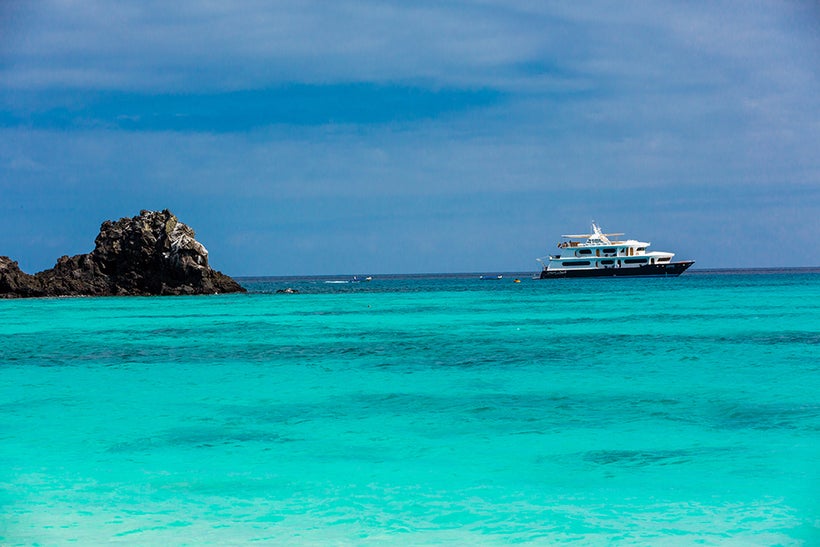 3. Is a Cruise the best way to see the Galapagos?
The best way to experience the Galapagos is undoubtedly to take a multi-day cruise between several of the islands. This is a particularly great choice for those travellers with limited time and for those wanting to gain a broad overview of the archipelago, including the chance to visit some of the more remote and wilder islands.
On a Galapagos cruise, you'll live on board the vessel, have access to excellent facilities, cuisine, entertainment and services, all while being effortlessly transported between each island destination each night as you sleep. Every day, you'll disembark to explore the otherworldly beauty of each island and to get up close and personal with some of the planet's most fascinating wildlife.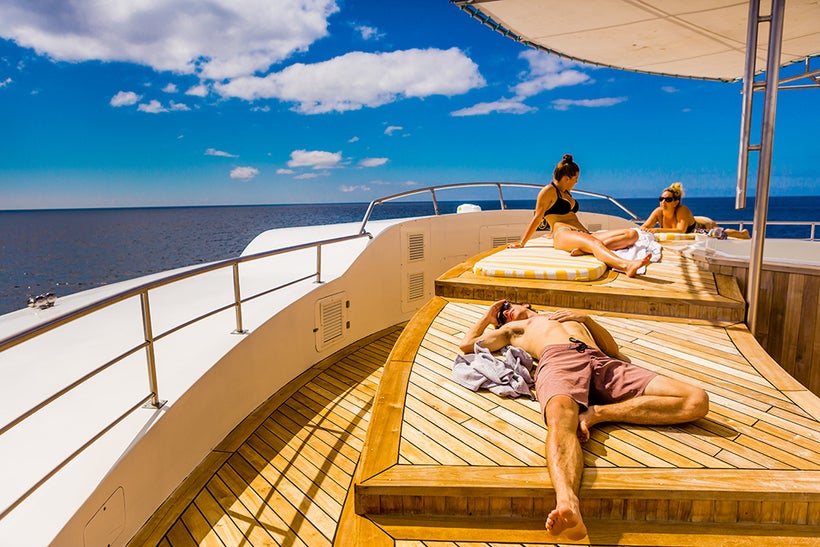 It's not as hard as you would think to find the right boat for you. When booking a live-aboard cruise through the Galapagos, try Rainforest Cruises to check out a wide variety of boats to choose from ranging in style from sailboats to luxury catamarans to larger yachts. Every boat is manned by a crew and private chefs ensuring you the best creature comforts while you go in search of incredible wildlife on cruises of 4 days or longer. There are suites and staterooms to accommodate a total of 16-40 passengers so no matter which boat you choose or where your boat lands, you are always in small groups to enjoy the tranquility of the natural environment around you.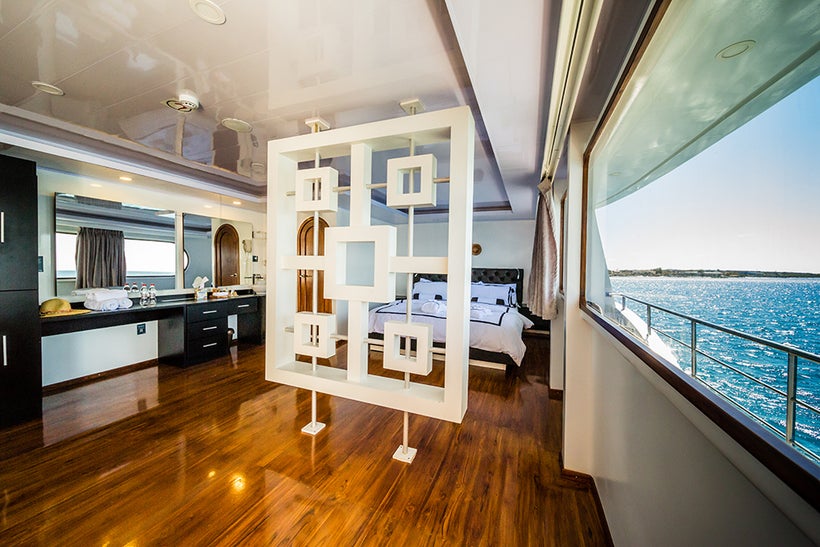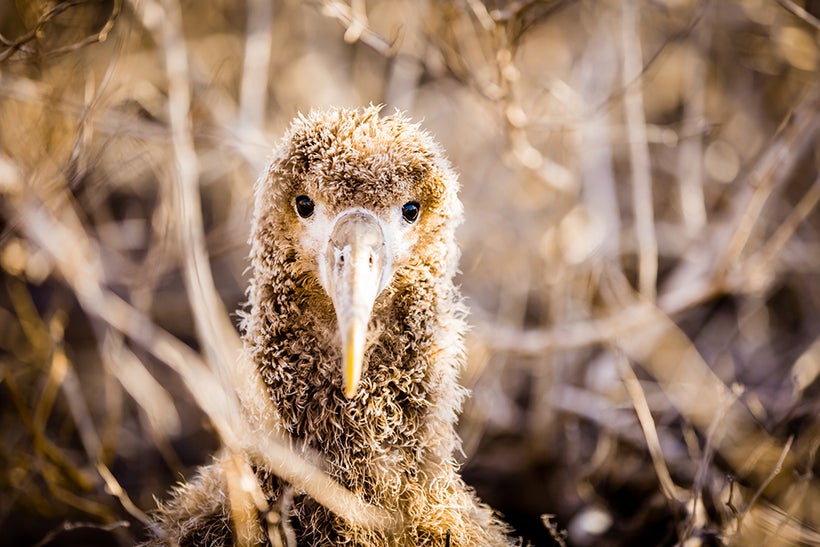 5. How many islands should we try to see?
The Galapagos is an archipelago of 19 islands. Each island boasts it's own terrain and wildlife and can be vastly different from the one next door. On some islands there are nothing but volcanoes; miles of barren, black, ancient lava flows sinking into the ocean with half submerged volcanic craters that look like crescent moons of land. While other islands have green and turquoise waters, white sand beaches, sea lions, birds and nothing else. Other than the main tourist hub of Puerto Ayora on Santa Cruz Island, most places have been untouched by humans and are crawling with wildlife without a building, road, or power in sight.
It is important to see at least 4 islands if you are planning a visit to the Galapagos, because each island is so vastly different than the next. So much so that while you are on a hike, the landscape even on just one island can change drastically within minutes. Deciding to do 4 days on a catamaran visiting the islands of San Cristobal, Espanola, Floreana and then finally docking on Santa Cruz island at Puerto Ayora is one of the best ways to have a "taste" of the different landscapes of the Galapagos.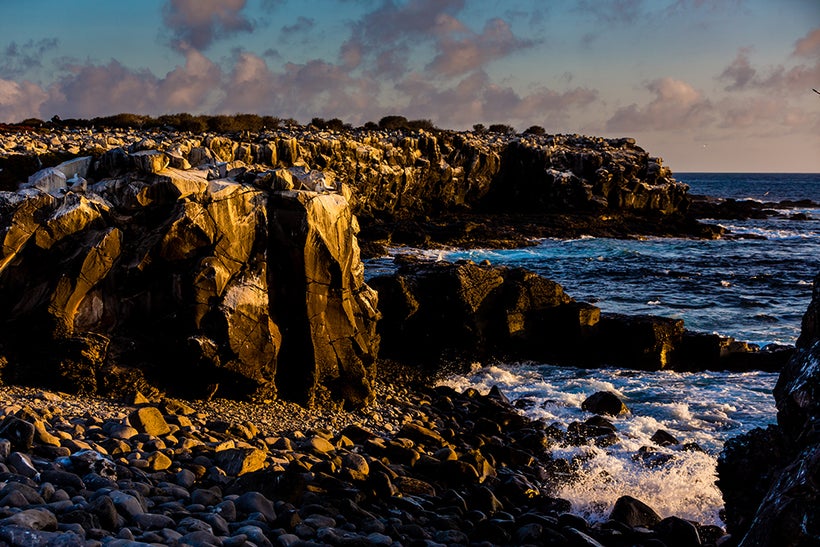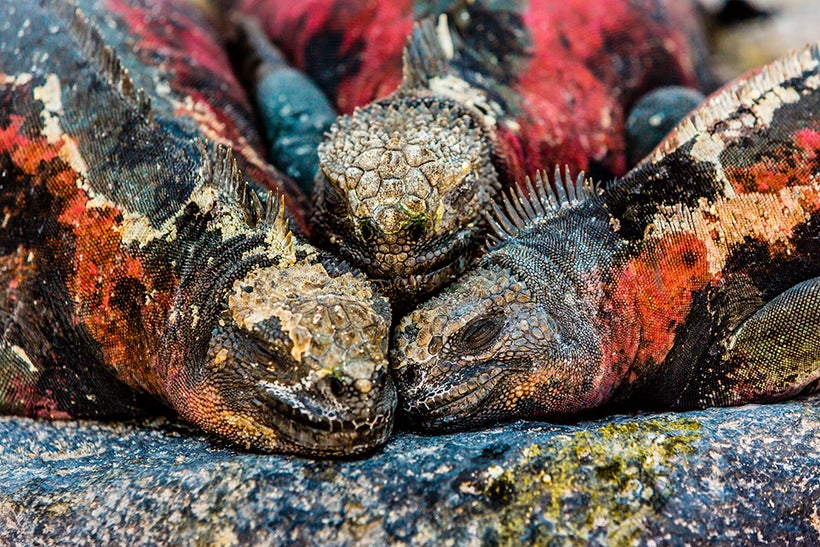 6. What wildlife can we expect to see on the islands?
Highlights of any Galapagos adventure include hiking, snorkeling and taking in the stunning coastal and volcanic landscape, as well as witnessing an incredible array of endemic wildlife, from Blue-footed boobies, giant 200 year old land tortoises, albatross, and penguins just to name a few of the incredible species that you will see while in the Galapagos. Many species are unique to the Galapagos because of its isolation and remoteness and because there are no natural predators on the islands to these creatures, they are completely unaffected and unafraid of humans. While walking on a beach it is completely normal if a family of sea lions and their pups want to waddle over and hang out with you, or birds may want to land on your shoulder wanting a sip of water from your bottle. As you are walking you need to be careful not to step on the thousands of iguanas that will be laying across your path and that WON'T move to get out of your way. It is such a magical place and like nothing you will ever have experienced before.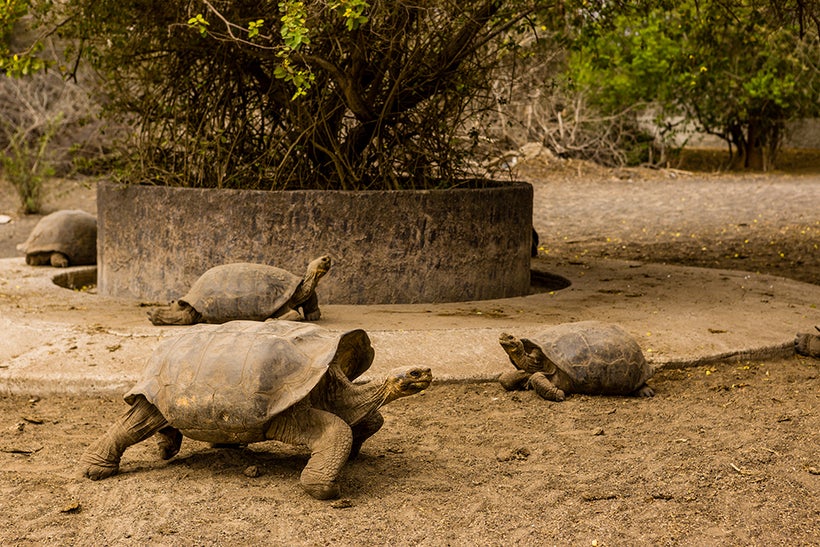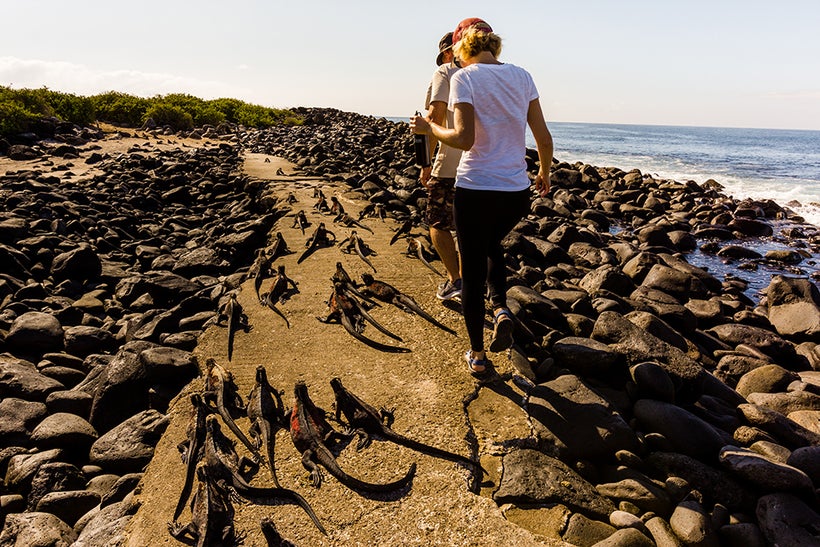 No matter which island you're snorkeling off of, you'll likely be swimming alongside sea lions, giant Pacific sea turtles, and schools of sharks and manta rays. Isla Lobos and Kicker Rock off of San Cristobal are excellent spots, but what was so incredible to me was the amount of wildlife and the diversity! Within 20 minutes you could be swimming with penguins, sharks, rays, 6 foot long sea turtles, and swimming through ancient underwater lava tunnels with sea lions!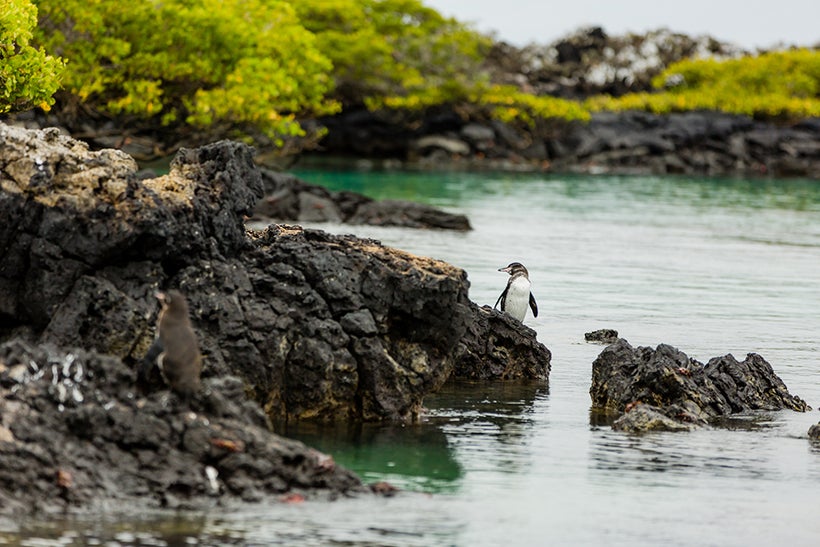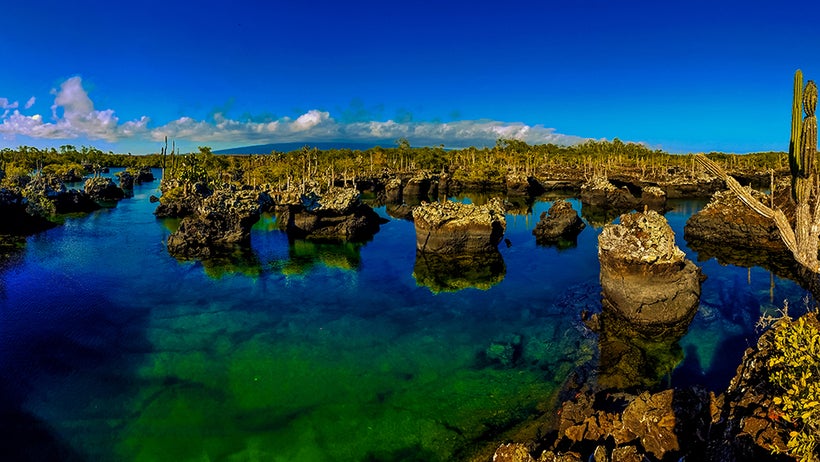 7. Are you allowed to stay on the islands?
The answer is Yes! Independent travel in the Galapagos is another popular way to get around the islands. This style of travel offers more freedom than a cruise schedule, gives you the chance to try adventure Galapagos activities such as scuba diving surfing or kayaking, as well as to explore the port towns and immerse yourself in island life. It is also a cheaper option and perfect for people wanting more personal space and flexibility on their trips. Although 95% of the islands are uninhabited by people, there are a few eco lodges and some hotels and hostels that you can book and stay at.
Combining land and a luxury sea adventure is definitely the best way to fully experience the Galapagos. There are plenty of lodge-style accommodations scattered throughout the islands, with a wide range styles to suit a variety of tastes and budgets, but my favorites are the ones that are "safari-esque" rather than a regular hotel and will make you feel like you are part of the natural environment when you are there.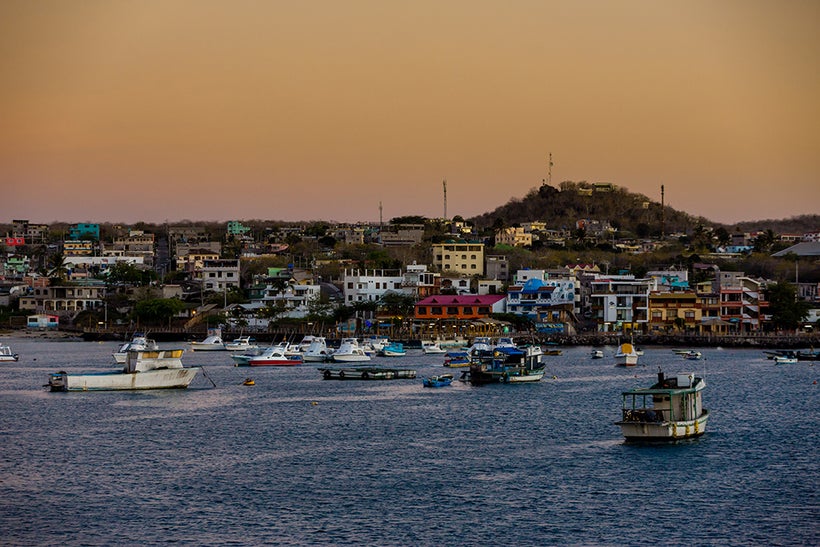 8. How do I find these "eco-lodges" in the Galapagos?
Depending on which island you fly into or your boat drops you off on, you have a few choices of "safari-esque" land eco-lodges where you can see giant tortoises roaming in their natural habitat. For those people who are in search of the ultimate remote getaway, look no further.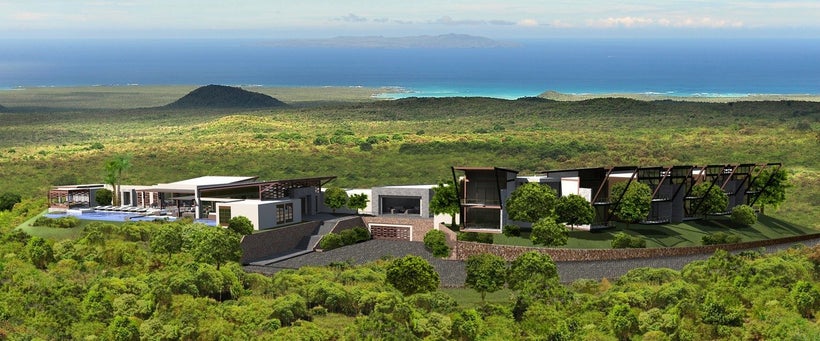 The breath-taking Pikaia lodge is located on Santa Cruz island and renowned as one of the most memorable places to stay in the Galapagos. The lodge occupies a unique and remote setting, perched high up on the slopes of an extinct volcano, 450 metres above sea level. It offers a jaw-dropping 270-degree perspective over the surrounding mountains, forest, savannah and ocean, with views extending from the Southern coastline all the way up to the Northern trip with Sante Fe Island just visible on the horizon.
The lodge does a fantastic job of combining modern architecture with the surrounding wild natural landscape. There are only 14 rooms, each with panoramic floor to ceiling windows and private terraces that make the most of the enviable natural setting. The restaurant serves locally-sourced ingredients paired with a wonderful wine list. You can spend your day roughing it in search of wildlife, or just relax in the infinity pool, bar or spa while being surrounded by pristine wilderness. You also won't need to venture far to witness some of the islands' most iconic creatures. Pikaia has its very own giant tortoise reserve, and these huge slow-moving reptiles can be found roaming the grasslands around the lodge.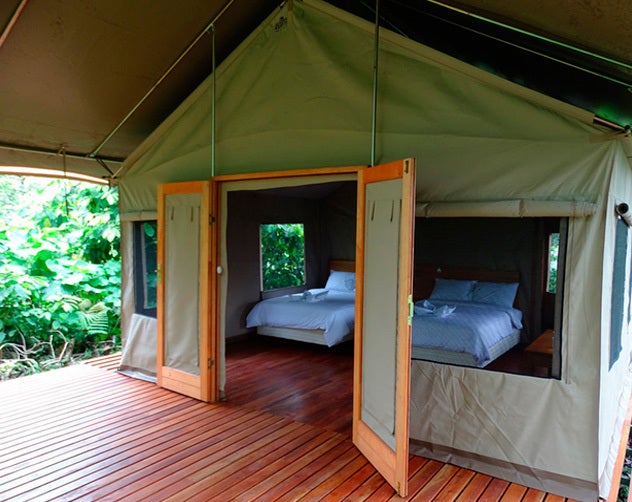 From Santa Cruz Island, you can take a 2 hour water taxi to nearby Isabella Island to really experience a volcanic adventure on land. Experiencing both the islands in the East that are older and have more vegetation and beaches versus the islands in the West that are still so raw and volcanic is a must do!
Situated in the highlands of Isabella Island, this eco-friendly lodge has borrowed the traditional African safari concept and adapted it to the wild Galapagos environment, resulting in a truly unique and unforgettable experience. It's a high-tech, stylish, yet incredibly inviting and unpretentious resort set on the slopes of a volcano and surrounded by lush forest. The property boasts spectacular views of the coastline and of several other Galapagos islands off into the distance. Guests are invited to go "glamping" in one of 16 luxurious safari tents, sleeping under canvas with a feeling of full immersion with nature, while being safely cocooned with modern ammenities.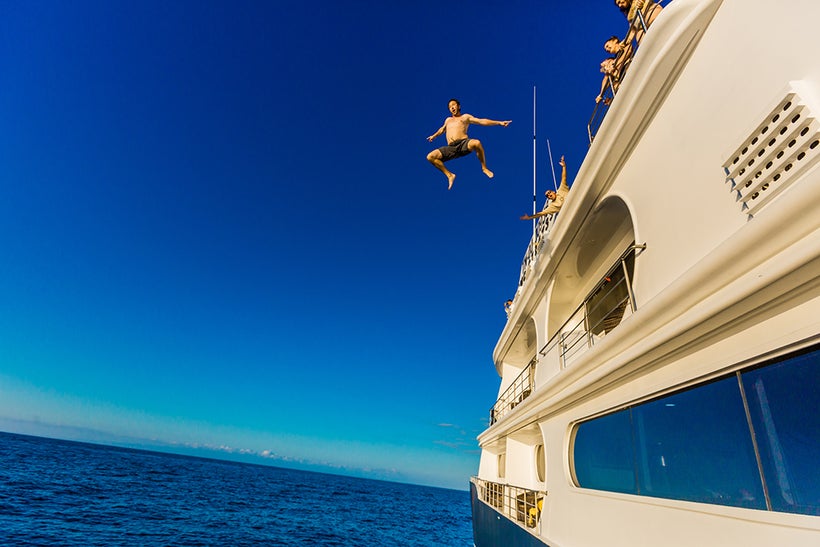 To see more about the Galapagos and Laura's travel adventures, follow her on Instagram @lauragriertravel
https://youtu.be/l4AI6T0-isc
https://youtu.be/HAXZ4IWOjKY
https://youtu.be/Xd8qnmi0PY0